Televisions are making big waves at the CES this year, with Samsung, Sony and LG announcing premium screens that look beautiful and awe inspiring. The image quality isn't the only addition to television sets, as companies innovate and mature what a smart TV is. CES 2016 is showing where smart home entertainment is heading with Samsung, Sony and LG leading the pack.
Samsung's televisions have been simply incredible with the image quality of their premium TVs. The 2016 range from Samsung has a lot going for them, building on what the company has been releasing previously. The SUHD line up has a new Smart Hub to bring a more immersive entertainment experience into the home. The Smart Control Remote looks to take away the annoyance of having too many remotes. The Smart Control Remote will make it possible to control the TV, set-top box, game console, OTT box and home theatre system when connected to the Samsung TV. Best of all, no set up will be required. The Smart Control Remote will work straight from the box.
For gamers, the Samsung 2016 range will allow for console-less gaming. Gamers will be given a choice of over 500 games, including Playstation titles Assassin's Creed III, Batman: Arkam Origins and The Lego Movie. The remote will have an EXTRA hot button that opens up a world of information on the screen. Related content will be available on the screen. For example, when watching sports, you'll be able to push a button and get player stats and profiles or information on your favourite or unknown actors as you watch a movie or series. As the Internet of Things means everything being connected, Samsung's mobile app Smart View is a hub to connect to a digital world in your home. Android, iOS and Windows PCs are compatible with Smart View. Apps and websites that are compatible include AccuWeather, Crackle, iHeartRadion, M-GGO, Plex, Pluto.TV, UGC, Vimeo, and YuppTV are there, just to name a few. Streaming content will be accessible, with entertainment platforms like Amazon and Netflix being right there on the screen. NeuLion will make sports easier to stream from a given selection.
Sony's TVs are part of a range that aim to make "living spaces more personal, more textured, and more emotionally appealing," according to Sony SOO Mike Fasulo. Sony has announced the focus on 4K HDR TVs. The Bravia X93D series with the X1 processor is a device to make anyone smile. Display quality is getting better each year with new technologies maturing. Sony is working on a prototype that was released, the Backlight Master Drive technology. Backlight Master Drive technology is something that will make blacks darker and colours brighter, with Fasulo claiming the prototype, will produce unprecedented levels of highlights.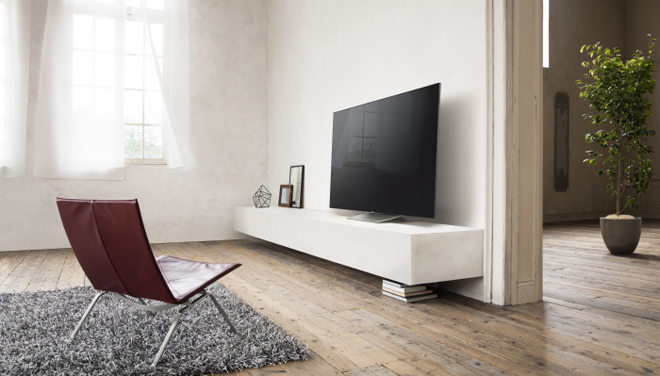 As with Samsung, Sony has considered how apps can improve their TVs. TVs are no longer what they were. A few years back, companies like Microsoft thought that the Xbox was what would be the entertainment hub of a smart home. Now, it looks more like the entertainment hub will remain the television. This makes sense; A gaming console isn't a must have device. The battle to convince consumers that it is was an impossible challenge. TV makers already have the entertainment hub competition settled; they just need to get the technology into more homes and refine the apps that can be used. Sony Home Pictures is launching an app named Ultra. The Ultra app is an entertainment store that gives users the ability to purchase 4K movies and TV series straight from the comfort of their homes.
Sony is moving into the Internet of Things in the smart home. Life Space UX (UX = User experience) is Sony's hope to change the in-home environment. To a lot of users, a smart home seems far off and still a fantasy. Sony wants to change that with the Life Space UX. Fasulo says that he wants these products to make a home and be connected. These ideas are still maturing, and Life Space UX is more of a hope of what is to come than what will be in the average home next year.
LG don't want to be outdone and have shown off their Signature G6 TV range. The Signature G6 series comes with devices for all price ranges and needs. The premium OLED models are incredibly thin and amazingly flat. LG integrated a forward-firing speaker bar and a table/wall mount that can pivot around without compromising on the size of the TV. The picture quality is as impressive as Samsung's or Sony's, but something tells me that LG didn't focus enough on connectivity to the smart home.
With all of these televisions, they show technology that is growing, maturing, and will become something integral in people's homes. The smart home envisioned by these companies is slowly coming to fruition, but it may take time. The technology and business models need time to mature, and users need to become comfortable with the change in their home.